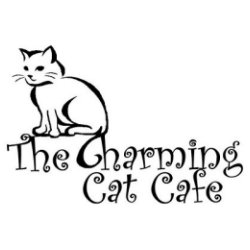 KITTY SAVE EVENTS
Adoptions
The Charming Cat Corner Vista Ridge Mall Lewisville, TX Mon-Sat. 11:00 a.m.-7:00 p.m.

Sun. noon-5:00 p.m.
Kitty Save is a 501(c)3 non-profit organization that relies on the generosity of its volunteers, public support, and donations. We have no paid staff. Our reward is seeing our wonderful creatures going home to their secure futures.
We have an adoption process in place that focuses on finding suitables homes for the animals in our care. Our primary goal is to serve the best interests of the animals.
To adopt...
Visit us at The Charming Cat Corner in Vista Ridge Mall of Lewisville where you can meet the kitties personally seven days a week.
Browse the list of adoptable animals on our home page and contact us about any that interest you.
You must complete an application and a legally binding contract which states what you must and must not do with the adopted cat. The contract also makes any disclosures about the health and behavior of the cat. If the application is approved, you submit the fee which permits you to go forward with the adoption. The fee is $175 for adults (12 months and older) and $195 for kittens 11 months and younger.
Print and complete the following documents.
| | |
| --- | --- |
| Application | Application -- Complete the application. Do not omit any requested information. The application tells us about your family, home, household, and experience with caring for domestic animals. If you believe that we seek information that is intrusive or you are unwilling to be thorough, our program is not suitable for you. |
| Contract | Contract -- Complete the contract. Read and initial or check each point in the contract. This contract is legally binding. If you cannot agree to all the points in the contract, our program is not suitable for you. |
Once you are approved for the adoption, payment of this fee permits you to adopt that cat. You are not buying; therefore, the cats are not products that come with guarantees. The fee applies to program participation, not to the cat. It is applied to support the program, not to offset the costs of a particular cat. The overall costs on some cats can be over $1000. This fee is not negotiable. In addition, it is non-refundable.
As a gauge, consider the following:
Office visit and exam: $55 each visit
Feline viruses and heartworm test: $80
Fecal test: $25
Deworming: $12-30
FVRCP (up to three): $30 each
FeLV vaccination (two): $40 each
Rabies vaccination: $25
Spay/Neuter: $200/$150
CapStar: $15
Flea/Tick Preventative: $8/month
Microchip: $50
The above does not take into account all the food and litter, plus any ear cleaning or medications for illness, infections, and other conditions. Your adoption fee is a wonderful bargain that gives the adopted kitty a good start in its new life.
We require personal documentation.
Your address on your drivers license must be current. Bring other proof of address, such as a utility bill in your name.
Because of our post-adoption support and return poilicy, you must reside within the immediate Dallas area.
If you rent, bring proof of a paid pet deposit, if such a deposit is required. If it is not required, bring proof from the landlord stating such.
Adoption consideration for an animal is generally on a first-come, first-served basis, with final decision based on application review. However, on occasion, we reserve the right to accept applications for a specific cat for a period of time. We then make the decision for adoption based upon the various applications, not first-come, first-served. We do not reserve animals for individuals.
Each successful adoption receives a comprehensive medical folder on the cat. This folder also contains all the documentation related to the adoption plus information on pet health insurance and a post-asoption checklist.
An unsuccessful adoption does not necessarily mean that you are completely denied; it usually means that the cat would not be successful in your home environment but that another one might.
About Our Adoptable Cats
All our adoptable cats are spayed and neutered before they are presented for adoption and are healthy to the best of our knowledge and based on medical history. Most are microchipped. In addition, they are...
Tested for feline viruses
Vaccinated with vaccines that are appropriate for the age of the cat
Examined for overall health
Observed for temperament and personality
Treated for any conditions prior to adoption
Treated with flea preventative
Dewormed
Because all our adoptable cats live in foster homes, not in cages, they learn house etiquette, are gauged for tolerance to other pets, and treated as members of the family. Still, we cannot guarantee the health, behavior, or temperament of any cat we adopt out. We recommend that any established pets be fully vaccinated before you bring any new pet into your home. Also, all our cats live in smoke-free homes, and we expect to place them in smoke-free homes for their continued safety and well being. Here is why...
After Your Adoption
After your adoption, we support you as follows:
We provide information on low cost pet health insurance options plus 30 days of free pet health insurance to get you started.
If you are local to your vet clinics, we offer a complementary medical visit with one of our participating veterinarians to be scheduled for within seven days of the adoption.
We give you a free pet drug prescription card good at neighborhood pharmacies and good for any pet in your household.
We conduct followup phone support and continue with you as needed but will not provide financial support.
We perform year-end contact.
We reserve the right to perform home visits for any reason and may require one prior to adoption.
You are required to notify us of any address, employment, or telephone number change until the anniversary of the adoption. After that, post-adoption support ceases, but we accept Kitty Save kitties you can no longer support.